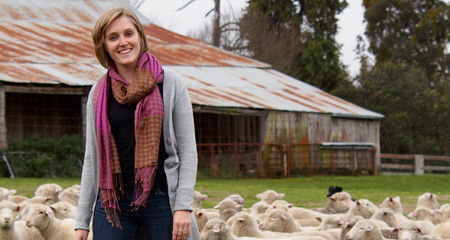 Dr Jo Newton
---
BREAKING NEWS - JO NEWTON WINS YOUTH LEADERSHIP AWARD!
---
Dr Jo Newton is a young research geneticist working with the dairy industry who selflessly inspires others to pursue careers in agriculture. Eight years ago she founded the Farming Futures Project at the University of New England – a careers fair showcasing agricultural opportunities, and today she mentors young scientists and visits schools to encourage students to realise their own agricultural journey. She has been recognised with the 2017 Dairy Research Foundation Symposium's Emerging Scientists Award and the 2018 Endeavour Research Fellowship. Jo is regularly invited to speak about her passion and through her leadership and drive is paving the way for others.
ANIKA MOLESWORTH
Anika Molesworth is the Australian Young Farmer of the Year and a global campaigner for equity for farmers in Australia and developing countries and a passionate advocate for Climate Change action.
"Gen Y is an exciting generation— we have entrepreneurial flair, innovative spirit, and a desire to better the lives of those around us and across the globe. We have the capabilities and energy to revolutionize the face of food and fibre production to ensure a thriving sustainable future.
We need a seat at the decision table to shake up the system, share our ideas, and help create the bright future everyone deserves."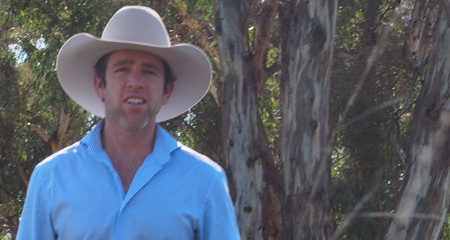 GEOFF BIRCHNELL
Geoff Birchnell is an award winning farmer and global agribusiness entrepreneur providing exciting and innovative opportunities for Australian farmers. As an accountant Geoff runs Grow Capital Finance, providing financial solutions for agriculture, and in 2016 he helped develop the NSW Young Farmers Business Program, which in 2017 was funded by the NSW State Government for $6 million. The program provides free bank-ready workshops for young people across the state. "These days being part of a farming enterprise means not only knowing how to strain a fence but also having the capacity to represent the business at the board room table."
In addition, Geoff keeps up his cattle interests as Director of Herefords Australia and a committee member of the Cattle Council of Australia.